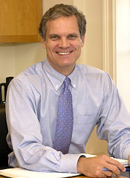 Kenneth S. Canfield
Kenneth S. Canfield
Ken Canfield founded the firm in 1990 along with Bob Shields and Everette Doffermyre. He is currently active in all areas of the firm's practice.
Mr. Canfield was born in Bryn Mawr, Pennsylvania in 1952 and grew up in the Philadelphia area and Rio de Janeiro, Brazil.
He received his undergraduate education at Dartmouth College, summa cum laude, and legal education at Yale Law School, where he was an editor of the Yale Law Journal.
After finishing law school in 1977, Mr. Canfield became a law clerk to the Honorable Frank M. Johnson, Jr. of the U.S. District Court for the Middle District of Alabama. He next served in the administration of President Carter as a Special Assistant to the head of the Civil Division in the Justice Department and as a Special Assistant to the Administrator of the Environmental Protection Agency.
From 1981 through 1985, Mr. Canfield practiced law in Denver, Colorado with the firm of Haddon, Morgan & Foreman. He then joined the Atlanta firm now known as Kilpatrick Townsend & Stockton. In 1988, he became a solo practitioner until founding Doffermyre Shields Canfield Knowles & Devine.
The major focus of Mr. Canfield's practice is complex civil litigation, particularly class actions, personal injury cases, and business disputes. He has been appointed as lead counsel or a member of plaintiffs' steering committees in class actions and federal multi-district litigation proceedings involving a wide range of subject areas, including ERISA, RICO, products liability, consumer fraud, and insurance practices. He has also represented plaintiffs in numerous constitutional, civil rights, and election cases.
In April, 1999, Mr. Canfield was appointed by the state's governor to the Georgia Judicial Nominating Commission, which screens applicants for state judgeships. He served until January, 2003. He has also sat on committees responsible for screening applicants to the federal bench.
Mr. Canfield is recognized in Best Lawyers in America, has been named a "Georgia Superlawyer" by Atlanta Magazine, and is listed in the Chambers and Partners guide to "America's leading lawyers for business." The 2007 edition of the guide hails Mr. Canfield as a 'great trial lawyer and strategist'" and notes that he is "detail-oriented and excellent at putting evidence together."
Mr. Canfield is a past president of the Georgia Trial Lawyers Association, a past director of the Atlanta College of Trial Advocacy, a past member of the executive committee of the Colorado Trial Lawyers Association, and a contributing author of the Georgia Trial Practice Manual. He is a frequent lecturer on legal topics. Among other forums, he has spoken before the American Bar Association, the American Medical Association, the Association of Trial Lawyers of America, and the Georgia Trial Lawyers Association. He is a Master of the Lumpkin Inn of Court.
RELATED NEWS
August 15, 2015
Firm Ranked Among Best in Nation by Best Lawyers for 2016
August 18, 2014
Five Firm Lawyers Listed in Best Lawyers in America (2015)