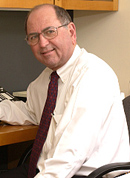 Ralph I. Knowles
Ralph I. Knowles
We are deeply saddened to report that on May 16, 2016 Ralph Knowles, our friend and law partner of more than 25 years, passed away. Our firm lost its heart and soul. The legal profession lost a passionate champion of the cause of justice and equality. Over his remarkable career -- from the mid-60s when as student body president at the University of Alabama he clashed with George Wallace to his leadership in later years of some of our nation's most significant civil cases – Ralph was one of a kind, a courageous and principled lawyer devoted to doing right who made everyone around him a better person. We have decided to leave Ralph's biography on our website as a tribute to him and his career.
Ralph Knowles has been with Doffermyre Shields Canfield Knowles & Devine since 1991. Prior to joining the firm, he was a long time partner with Drake, Knowles & Pierce in Tuscaloosa, Alabama. Earlier in his career, Mr. Knowles served as Associate Director of the National Prison Project of the American Civil Liberties Union in Washington, D.C. and was staff attorney with the Selma Inter-Religious Project.
Mr. Knowles graduated in 1969 from the University of Alabama Law School. Finishing fourth in his class, he was awarded membership in the Order of the Coif and the Farrah Law Society and served as an editor of the Law Review. He received his undergraduate degree from the University of Alabama where he was elected president of the student body.
During his legal career, Mr. Knowles represented plaintiffs in a large variety of cases which resulted in landmark constitutional decisions on behalf of prisoners, mental health patients, and others. He has also been counsel in major political litigation.
Mr. Knowles has served as the co-chairman of the Plaintiffs' Steering Committee in the breast implant litigation and was on the Plaintiffs' Steering Committee in the latex glove litigation. Mr. Knowles has authored a number of professional articles and spoken frequently on subjects involving complex civil litigation.
In 1982, a United States District Court Judge included the following statement about Mr. Knowles in a published opinion that lauded his "experience and consummate ability as a trial advocate":
"A general conclusion regarding his excellent ability and integrity is not sufficient. I must point out that during the entire time I have been connected with the profession of law as student, practitioner and judge I have never observed a lawyer who was more talented or accomplished in the art of cross-examination. Mr. Knowles undertook the cross-examination of most of the defendant's expert witnesses with devastating effect."
Mr. Knowles is a Fellow of the American College of Trial Lawyers, a member of the American Law Institure, and a Past President of the Tuscaloosa County Bar Association. He has received the highest awards of the Civil Liberties Union of Alabama and the Alabama Criminal Defense Lawyers' Association.

Previously, he was appointed by the Alabama Supreme Court to its Committee on the Promulgation of Rules of Evidence and was Chair of the Alabama State Bar Association Task Force on Judicial Election, Selection and Evaluation.

Mr. Knowles has served on the Board of Directors of the NOW Legal Defense and Education Fund and the national Board of Directors of the American Civil Liberties Union

He is a Master of the Bleckley Inn of Courts and a member in good standing of the Alabama and Georgia bars.

Mr. Knowles has retired from the active practice of law. He remains associated with the firm, where he maintains an office.
RELATED NEWS

August 15, 2015
Firm Ranked Among Best in Nation by Best Lawyers for 2016

August 18, 2014
Five Firm Lawyers Listed in Best Lawyers in America (2015)