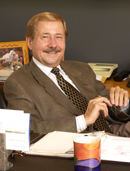 Toxic Torts
A toxic tort is a type of personal injury case in which someone is injured from exposure to a chemical or other hazardous substance. Typically, these cases arise from exposure to drugs or consumer products. Toxic tort cases also may arise from exposure to environmental sources of pollution, such as a toxic waste dump. These environmental cases are covered elsewhere on our website.
Our firm has a long history of successfully handling all types of toxic tort litigation under the leadership of Bob Shields, nationally recognized for work in the area. In addition to litigating scores of matters personally, Mr. Shields routinely teaches other lawyers how to handle toxic tort cases and has published extensively in the field. He is the co-author of Plaintiffs' Guide to Toxic Torts (Matthew Bender 1987), among other works.
Here are several examples of toxic tort cases that we have handled:
We obtained a landmark verdict on behalf of a railroad engineer who died of cancer as a result of his on-the-job exposure to diesel exhaust. The case was filed under F.E.L.A., the federal statute governing claims by injured railroad workers.
We represented a mother and her severely brain damaged child in a suit against a printing company arising out of their exposure to organic solvents during pregnancy. The case was settled shortly before trial.
A family suffered personal injuries and their home was rendered uninhabitable when a pest control company misapplied chemicals on the property. At a trial in which we represented the family, a jury awarded them the value of their home and compensation for their injuries.
We represented the families of several people who died while participating in a clinical trial of the experimental drug FIAU. Claims were asserted against the drug company for failing to warn participants of the drug's risks, which were known only to the company, and for failing to conduct the trial in a safe manner. After the cases were transferred to Washington, D.C. as part of a federal multi-district proceeding and one of the firm's lawyers was appointed to serve as plaintiffs' lead counsel, the cases were settled.