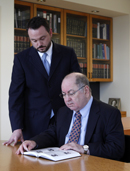 Products Liability
Our firm has handled many individual, mass tort, and class action cases involving defective products, including faulty medical devices, poorly designed automobiles, hazardous consumer products, shoddy building materials, and unduly dangerous drugs.
Some of our lawyers have earned enviable reputations as product liability specialists and several of our cases have become milestones. These include Banks v. ICI Americas, decided by the Georgia Supreme Court, which dramatically changed the state's product liability laws and remains the leading case in the field.
Here is a sampling of other product liability cases we have handled:
Ralph Knowles was appointed by a federal court to serve as plaintiffs' co-lead counsel in the national breast implant litigation, one of the largest product liability cases in history. In addition, Mr. Knowles and Leslie Bryan, along with others, achieved record verdicts in three individual breast implant trials, led the team that negotiated several multi-billion dollar settlements, and represented implant recipients in connection with the bankruptcy of a major manufacturer.
Our client's three year old daughter was horribly burned after she inadvertently started a fire with a charcoal lighter. Our investigation revealed that young children saw the lighter as a toy and that dozens had been killed or burned in similar circumstances. The resulting lawsuit was settled shortly before trial.
In the early 2000s, evidence established that several synthetic stucco products used in new home construction were prone to rot and deteriorate. We represented home owners in several state and national class actions in claims against the stucco manufacturers. The claims were settled.
Two young children tragically died as a result of a fire caused by a water heater in their home. We represented the family in a lawsuit against the manufacturer. After discovery linked the fire to a defective pilot light, the case was settled.